Last Thursday, I had the privilege to head down to Telluride, Colorado with the No Barriers USA team for their first annual Women's Summit over the long weekend.  No Barriers USA is a non-profit organization whose mission is to "unleash the human spirit."  This impactful organization has done a lot of good for military families and humanity in general by helping people to believe in their core that WHATS WITHIN YOU IS STRONGER THAN WHAT'S IN YOUR WAY.  It was with this in mind that I prepared for the inaugural Women's Summit to be both a presenter AND a participant.  My journey would begin with meeting up with two amazing women from No Barriers USA for the 6.5 hour drive through rolling mountains filled with the last breath of fall's vibrant color to Telluride.
After a warm welcome, we settled in with dinner and our  first speaker, Wild Mama author, Carrie Visintainer.  Carrie shared her story with us on how she left a very prestigious career opportunity in order to pursue her passion and inner "Wild," writing.  Carrie and I became fast friends as we were both very new authors with recently released books on the shelves.  The stage had been set for a weekend of sharing, extending and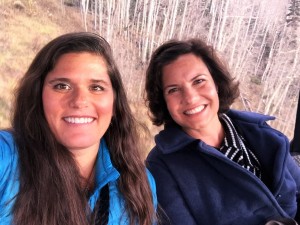 being completely open to all the possibility around us and within each of us.  A small spark of possibility, kinship and sisterhood had been ignited that evening as we sat together around the campfire and shared our personal stories—many of us surprised ourselves with what we revealed and how free (and vulnerable) we felt afterwards.
Friday began with early morning yoga followed by a quick breakfast and then on to our first PEAK physical experience.  Some of my new friends chose horseback riding with Rowdy while I chose to do the Via Ferrata leading up to the "main event," an exhilarating technical traverse along the cliff edge of the east end of the Telluride canyon with views of Bridal Veil Falls and the valley below.  I got paired up with a very special lady, Karen, who became my life-friend that day as we boosted each other up, over and through our barriers!  Our guide was a mountain man named Sean who loosely resembled a lumber jack with his pointy beard.  He had a deep voice, calming demeanor and great one-liners to keep us focused o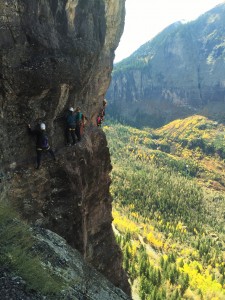 n the task at hand.  "Be mindful of the consequences off to your left," he told us as we walked up the skinny path to the main event.  "Make sure you take this gently" as we went down the somewhat slippery trail.  In all honesty, directly to our left was the cliff with MAJOR CONSEQUENCES (ie, you slip and fall off, you're ummm… g o n e)!  Sean was a perfect example of how to maintain your cool and grace even under stressful, physically demanding life-threatening conditions.  We clipped into the lines and traversed the side of the cliff smoothly and effortlessly drinking in the spectacular views all around us.  For perspective, the main event is suspended over 200 feet above the canyon floor.  On the way back, Sean asked us "if it would be inappropriate as our guide to ask us our story."  Karen immediately chimed in and eloquently said "you have our lives in your hands and are keeping us safe-the least we can do is share our stories with you!"  And share we did…in perfect sync with the theme of the weekend—openly sharing and courageously pushing past our own personal limits.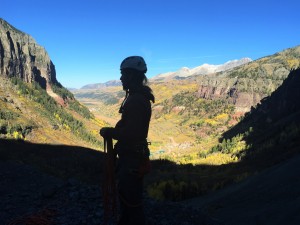 From the Via Ferrata, we quickly showered and prepared to fire another part of our brain—THE CREATIVE.  We were given the choice of drawing/painting or jewelry making.  I chose to do jewelry making with Angie Shireman (aka MsYogiPants on etsy).  Angie was a breath of fresh air who would sprinkle her uplifting words like magic fairy dust around us.  Her words were prevalent in everything she did including her very being as they were tattooed across her body, hanging from her ears/neck and even on the backside of her business cards.  She told me openly that sometimes she needed to pound those words in order to remind herself just how strong, beautiful and enough she is.  I had never done something like this before and quickly realized what thought, precision and creativity is required to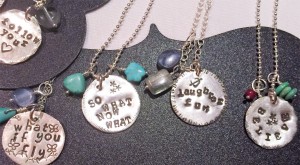 come out with a finished product you'd like to actually wear.  We were like kids again practicing before actually putting our whimsical pieces onto the silver pendants that Angie had prepared for us.  I enjoyed watching the look of fear turn into concentration and evolve into pride in the finished product among the ladies that shared this with me.  We were all hesitant to start that first letter into the pendant. What if I didn't place it right?  What if it doesn't look good?  What if …?  The hesitation faded quickly and the finished products were amazing and very special.  Thank you Angie for letting us into your world for a little bit—it's a wonderful place!
We then took the gondola up and over into Telluride where we had a special dinner at the Rustico and I was up next to share my story.   I talked about my life theories and shared a couple of stories from my time at the Academy and in the fleet.  It felt good the next day to hear everyone's reaction to it and to know that I had touched their lives.
Saturday was our last full day together.  It began again with a refreshing yoga class by Stacie, a solid breakfast and then onto our last physical challenge—a hike with our entire crew up the SEE FOREVER trail/blue ski run.  It was a steep and challenging walk with close to 2000 feet of gain spanning 5 miles total.  With surgery just around the corner, I was very aware of my injured areas and took care to not push it too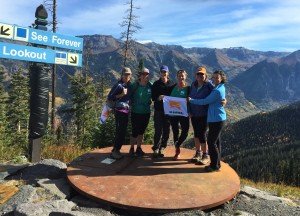 hard (which was hard for me).  What struck me most was a heartfelt conversation that I had with Heather Thompson on a rather steep section (it's much harder to walk up the blue run than to ski down!).  She cut through all of my layers and encouraged me to not be afraid to go  deep—very deep—and to follow my passion whole heartedly.  I'm still writing that part of my story, but with more clarity and direction!
By the last dinner, our group had completely gelled and we were no longer strangers, but rather good friends on a shared journey that we didn't quite want to end.  We shared an exercise in control and savoring the small slices of goodness with Yoga Instructor Stacie's Godiva chocolate experience.  She guided us through using all of our senses to touch, smell and imagine the sweetness inside before slowly indulging in the decadence.
After dinner, the accomplished Heather Thompson was up at the final campfire to first lead us all in sharing what we learned from the 4 day Summit and what we'd be bringing back home with us.  After all had spoken but one, she shared her story from a very heartfelt and open place.  Having been a TV star, very successful entrepreneur with the revolutionary shapewear brand, YUMMIE, and Creative Director to some of the biggest names in the business, Heather was a force.  But here, in her own words, she "was just a girl."  She was approachable, down to earth and shared on a much more intimate level than I think even she had expected to.
A flame was ignited that weekend deep within each and every one of us that can no longer be denied or ignored.  It's up to us to keep the flame alive by choosing to live a No Barriers life every single day.  I'm grateful for the experience and the many new friends that I came away from the weekend with.  Hopefully, next year, you will decide to join us too.  🙂